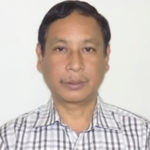 Dr. Birhash Giri Basumatary
Principal, Bijni College
Message from the Principal
Since its establishment on 21st July ,1969, Bijni College has gone through various stages of struggle, growth and success. As an institution of Higher education in a socio-economically underprivileged area it has undertaken the great responsibility of nurturing and shaping the young minds within the binaries of stark reality and a resplendent dream. It is a proud privilege on my part to share this journey of the college since my enrolment as a student in 1987. In the course of time, I was honoured to be a teacher and subsequently the Principal of this premier and prestigious institution in the district of Chirang, BTR, Assam.
Provincialised on 1st December, 2005, the college is successfully running both Arts and Science streams besides the branches of distant mode courses under IDOL and KKHSOU. In the last five decades of its sustained and steady growth, it has reached the present state of being, flanked by P.G. classes in Assamese and English. The tireless and self-less co-operation of both Teaching and Non-Teaching staff has immensely contributed towards the present development and ambience of this college as a destination goal among the students. The students, guardians and the well-wishers have been wonderful stake holders in galvanizing the aspirations of the founding fathers into an achievable honour through their commendable contributions. Within this span of time, the college have won many a laurels in diverse fields to enrich its existence.
In the days ahead, I strongly believe, the united endeavour will continue with renewed vigour and zeal to match the best anywhere and make this institution a centre of excellence. We will collectively strive to create self-reliant and self-esteemed global citizens with emphasis on local ethos with conviction, confidence and compassion. Hosting of different skill-based vocational courses and humanitarian camps in periodic manner in collaboration with Regional and National agencies speaks for our commitment in this direction. The college commits to provide both academic and extra-curricular proficiency to its students to help them mould into the harbingers of peace, harmony and prosperity. In this regard the college solicits everyone's co-operation through their invaluable suggestions and notes of appreciation. Together we will uphold the essence of knowledge and spirit of enquiry to make our college a memory to be cherished.